Δεν έχετε κάνει εγγραφή
Πάτα "PLAY" για να μεταφερθείς στη σελίδα αναπαραγωγής της ταινίας
Αν δεν βλέπεις το PLAY στην παρακάτω εικόνα απενεργοποίησε το ADBLOCKER σου μόνο για αυτό το βήμα και θα το δείς. Δεν υπάρχουν popups στο site μας.
Εναλλακτικά μπορείτε να κατεβάσετε το Ελληνικό popcorn time.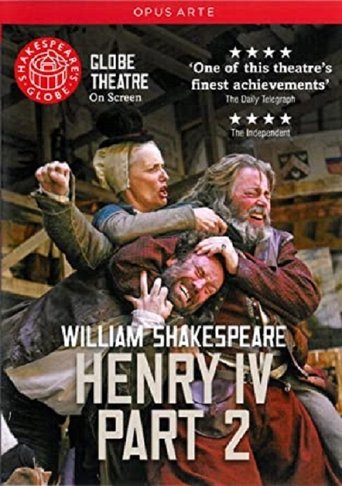 Hotspur is dead and Prince Hal has proved his mettle on the battlefield, but King Henry IV lies dying and the rebels show no sign of surrendering. Even Sir John Falstaff is forced out of the taverns to raise a militia, but will his attachment to Hal be rewarded with promotion and the life of ease he feels sure he deserves? Henry IV Part 2 includes some of the greatest moments in Shakespeare: the deathbed scene of the old King, when Hal contemplates the crown; and Hal's devastating rejection of Falstaff himself. Roger Allam ('a Falstaff to treasure' - The Times) won the 2011 Best Actor Olivier Award for his performance in Henry IV Parts 1 and 2. 'Jamie Parker (Prince Hal) is 'terrific to watch' (London Evening Standard); he appeared in As You Like It at the Globe in 2009, and was also in The History Boys at the National Theatre, on Broadway and on film.
Release Date:
2012-06-25
10.0/10
Country:

GB

Language:

English

Runtime:

171